We believe it is very important that you review and confirm that you have read our Privacy Policy to ensure that you are aware of and agree to our collection and use of your Personal Data. Click here for
Privacy Policy
.
This website uses cookies to improve your experience .
Artstanding Rushil!
Virtual
06 June 2020 ( 07:00 pm - 07:30 pm ) (EDT)
It is our pleasure to present
Rushil Vishwanathan, an aspiring singer, performer, songwriter, producer, and musician
! He will be performing a mix of Pop, R&B and Bollywood music ! Don't miss it!
You can watch the event on
Facebook Watch Party
and on our
Website
.
Please register for the event so Rushil knows that you will be there to support him. Thanks!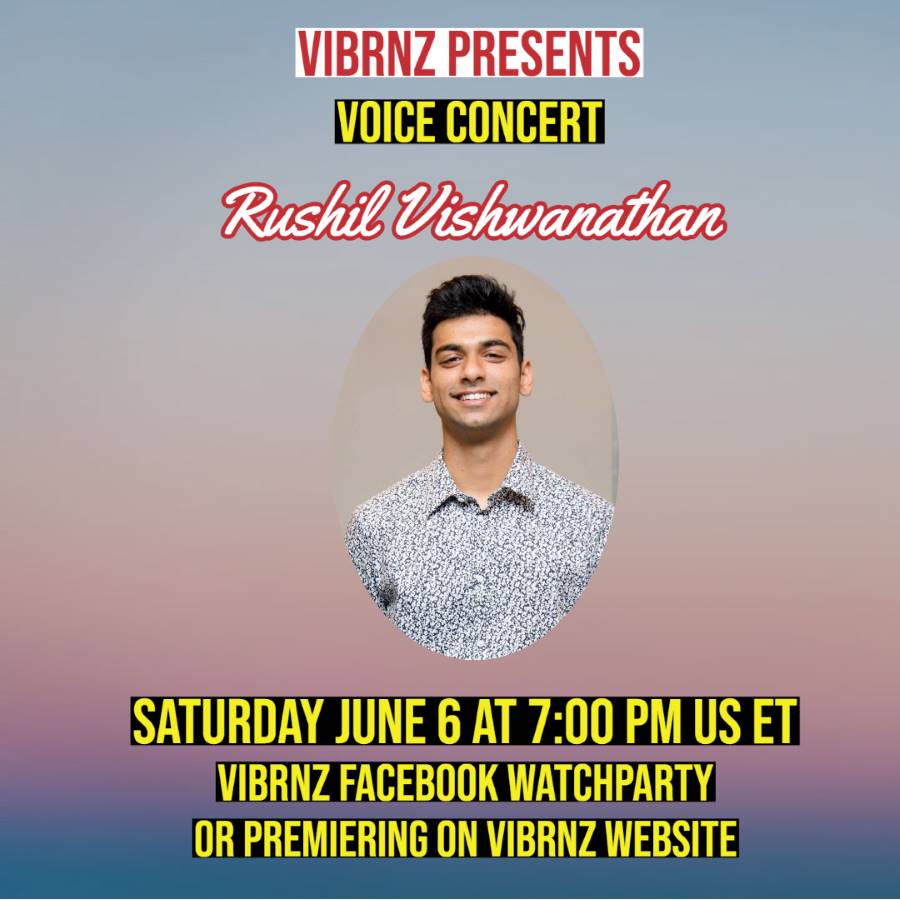 Organized by
Get inspired, learn and showcase. Vibrnz is a technology platform focused on the arts. We offer tools and organize multiple initiatives to enrich your experience in the arts as a student, teacher, artist, entrepreneur, small business or an enthusiast.
---
Additional ticket info
Please register so Rushil knows who all are joining. It will be encouraging for him to know, and he might even get back to you with a thank you note!
FAQs
Do I have to pay for the concert?
No. You just need to register.
Where can I view the concert?
On the
Vibrnz website
or on
Vibrnz Facebook Page
. Click it, like the page and you are all set! 
What time does the concert start?
At 7:00 pm on Saturday, June 6th US Eastern time. We will start the watchparty at 6:55 pm. Please join 5 minutes before the concert.
Can I post comments or kudos during the performance?
Yes, on Facebook! As the concert is taking place, please post likes, and comments  to encourage. It means a lot to artists- upcoming or professional.